Scotch-Australian whisky The Brisbane is a pioneer of Blockchain technology and master blending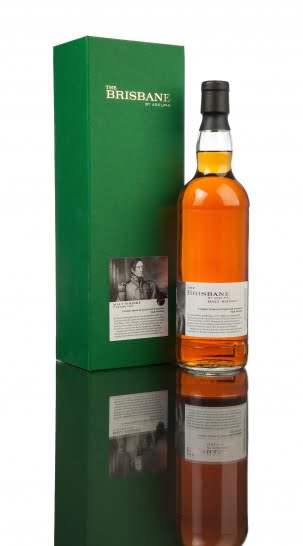 The team behind a series of innovative whisky blends have unveiled their latest creation – a pioneering fusion of Scotch and Australian whisky called The Brisbane.
And they say that the unique whisky will be the first whisky to use new Blockchain technology to demonstrate its provenance and authenticity.
Called The Brisbane, in honour of the Scot who founded the great Australian city, it is the fourth international blend to come from the award-winning team of Fusion Whisky and Adelphi.
The whisky was launched at the weekend in Australia during the Whisky & Dreams festival at Starward Distillery, in Melbourne.
The Brisbane launch was headed by Alex Bruce of Fife-based Adelphi and David Vitale of Starward Distillery, which supplied the Australian whisky for the blend. Acclaimed whisky writers Dave Broom and Charles MacLean were also there to sample the pioneering dram.
"We believe never before has someone taken Scotch and paired it with Australian whisky to create something as wonderfully unique and compelling as The Brisbane," said Adelphi's managing director and master blender Mr Bruce.
As well as the five-year-old Australian whisky, The Brisbane was also made with Scotch from Glen Garioch and Glen Grant distilleries.
Mr Bruce added: "This ground-breaking whisky follows closely on from our Winter Queen whisky, which marries Scotch with Dutch whisky, and our E&K, which blended Scotch and Indian whisky. With This Brisbane, we're very proud to be honouring another great Scot, and one who left a lasting legacy in Australia."
Edinburgh-based Fusion Whisky said it was also following Adelphi's pioneering work with the use of Blockchain technology to demonstrate The Brisbane's provenance and complex production history.
"Thomas Brisbane was a great champion of science, so it's entirely appropriate we pioneer this new technology with a whisky made in his honour; the first whisky in the world to do so."
Kieran Kelly of partners arc-net, who provided the Blockchain platform and support, said: "Our aim is to establish the global standard in product and supply-chain transparency, authentication and security, providing the consumer with 100% traceability, provenance and product authenticity. The arc-net platform offers both brand and product protection and provides brands with a voice on the global stage. All the team at arc-net are very proud to be the first company to use Blockchain technology with a whisky, especially one that is itself pioneering and honours a great champion of science."
Fusion Whisky said the idea to create a series of international blended whiskies came from the global success of its Glover brand, which was a blend of Scotch and rare Japanese whisky, with bottles of the 22 year old variant selling for more than £1000.
Each of the whiskies celebrated a pioneering Scot who made a positive impact in the partner country. Its iconic Glover whisky paid tribute to Thomas Blake Glover, the so-called "Scottish Samurai" who played a key role in Japan's industrialisation and co-founded the companies that became Mitsubishi and Kirin Group.
The company also honoured "forgotten" Scottish princess, Elizabeth Stuart, the Winter Queen, who headed an influential court in The Hague for 40 years; while its E&K brand celebrated the achievements of Victor Bruce, 9th Earl of Elgin and 13th Earl of Kincardine.
As well as the city that bears his name, Thomas Makdougall Brisbane, while serving as Governor of New South Wales, opened the door to the foundation of Melbourne, enabled a free press, and worked to improve conditions for colonists and secure compensation for Aboriginals who lost lands. He also built the country's second observatory, and instigated the first astronomical survey of the southern hemisphere skies, for which the Sir Thomas Brisbane Planetarium is named after him.
Born near Largs in Scotland in 1773, Brisbane was also a distinguished officer in the British Army, although it was for his civic achievements he is best remembered. A great pioneer of astronomy, Brisbane built Scotland's second permanent observatory and was a great patron of science. A crater on the Moon bears his name.
Mr Bruce added: "Done with care and creativity, blending high quality whiskies from different maturation climates can result in some captivating and utterly unique whiskies."
Graham Langley, director of Fusion Whisky, said: "Like our previous whiskies, we are extremely excited to be able to take these whiskies and share them with whisky lovers who will be able to appreciate the complex flavours and extraordinary effort to create these extraordinary whiskies."